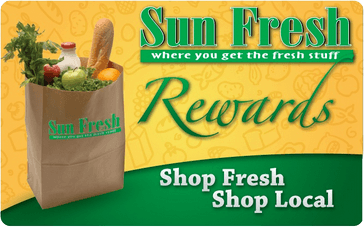 $1 = 10 Points
Your dollar goes further now with our new Sun Fresh Rewards points. You get 10 points for each dollar you spend at Sun Fresh, no minimums.
Redeem Points for Points Perks
Now you get to decide how you want to use your points. We have several items for you to choose from to redeem your points – those are Points Perks. That means free items you buy all the time.
Get Discounts
Points Perks also extend to $ off your bill. Use those points to earn money off your total bill. Save those points for up to $20 off your total bill on qualifying items.
Save Big With Digital Coupons
Digital Coupons help you save each and every time you shop. Clip them to your Sun Fresh Rewards account and the discount will automatically be taken off at the register.